Mainframe Modernisation Demands Mainframe Environments
Automate mainframe environment provisioning for fully Agile mainframe projects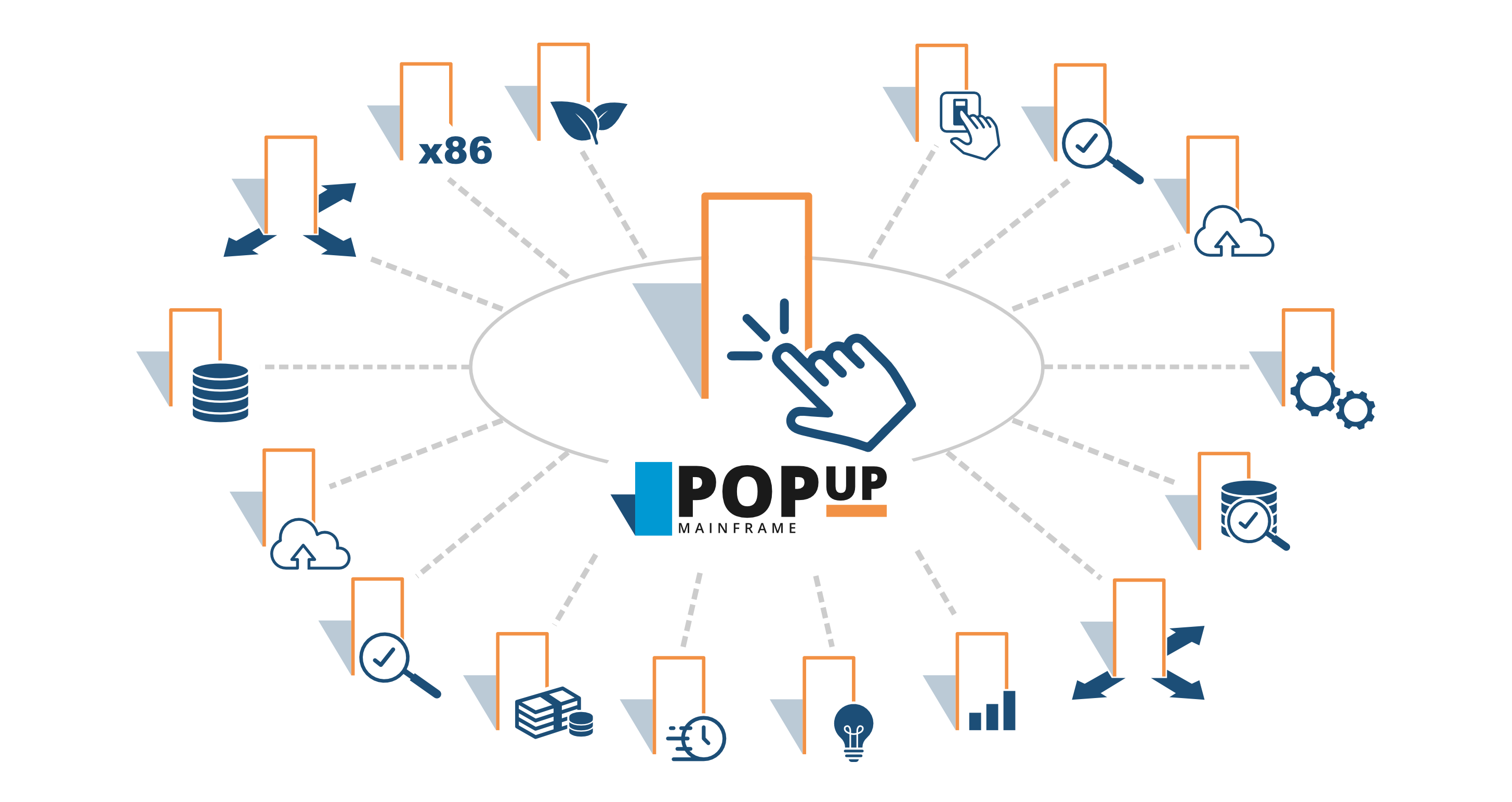 Fully provisioned virtual mainframe environment which can run anywhere
Run real mainframe code and software directly on PopUp, integrate PopUp seamlessly with your IT estate
Modernise your organisation strategy with mainframe in the cloud and minimal maintenance overheads
Mainframe test environments run on x86 commodity hardware, saving hardware and storage costs Provision mainframe environments with APIs and enable self-service
Use automation pipelines to provision and scale mainframe "Gold Copy" environments instantly
Mainframe environments created on-demand accelerate projects dependent on mainframe
Modernise your organisation strategy with agile mainframe projects
Data compliance & data masking
 Protect data privacy and with state-of-the-art data masking.
Fully data-compliant mainframe environments to satisfy regulatory requirements. Dedicated mainframe environments
Create isolated environments for development, use with desktop IDE, testing, R&D, training & more!
Reduce energy usage and environmental impact
Turn off mainframe test environments when not needed, reducing energy usage and total cost of ownership
Create slim mainframe environment 'slices' to suit your needs with a lower energy and resource footprint How it works
PopUp Mainframe delivers Red Hat Enterprise Linux distribution with IBM's zD&T mainframe emulator pre-installed, preconfigured and ready for work on any enterprise hardware you choose.
PopUp Mainframe runs real mainframe code, so it looks and behaves exactly like a real mainframe, and supports ANY mainframe software.
How quickly can you setup a PopUp?
Popup can be installed and run instantly like an App on desktop, server (in VMs and Containers) and the Cloud.
What does PopUp cover?
z/OS 2.4, TSO/ISPF, DB2, CICS, IMS, MQ
+ any 3rd Party Software. It is a fully provisioned mainframe.
What can I do on PopUp?
Anything that you might already do on a mainframe – testing and development, R&D, third party software evaluation, training for testers and developers.
How many instances of PopUp can I have?
As many as you need. You can have one or multiple Linux servers running zD&T and you can save zD&T's config, system and application data at any point in the zD&T's life and restore it at will.